Versatility and sustainability merge again when it comes to green architecture, and one such application is bamboo doors and windows.
This material, as an abundant and sustainable natural resource, has revolutionised the world of design and construction in many sectors. The one we are talking about today is no exception. Its versatility, beauty and unique properties make it a material of choice for the creation of these elements that stand out both in aesthetic design and functionality. The use of openings and closures is essential for connecting spaces, regulating lighting and ventilation. Here we will explore how bamboo has left a significant mark on joinery construction, providing solutions that harmonise aesthetically with nature.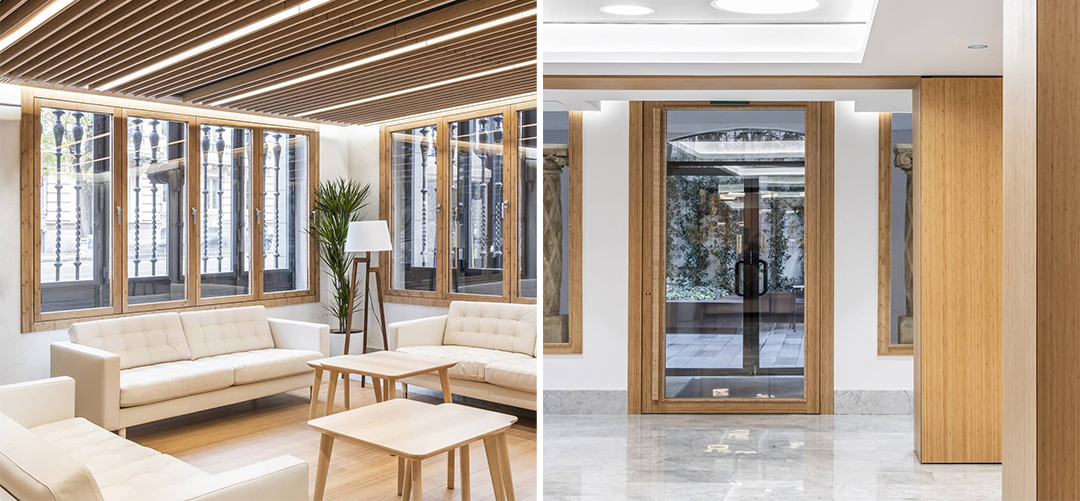 Characteristics of bamboo doors and windows
Bamboo, known for its rapid growth and sustainability, is an environmentally friendly option for contemporary joinery. Its tensile and compressive strength exceeds that of many traditional materials. This allows for the creation of slim, elegant doors and windows, without compromising durability. Bamboo's extraordinary strength makes it an ideal material to withstand the elements when it comes to exterior order, as well as providing security for spaces.
In addition to being sustainable, bamboo exhibits a natural beauty with a rich texture that adds warmth and elegance to the design. Bamboo doors and windows can be adapted to a wide variety of styles, bringing an organic touch to any space. The range of colours and finishes available allows for bespoke customisation, meeting the aesthetic preferences of each client.
Bamboo also stands out for its light weight, which makes it easy to handle during the manufacturing and installation process. Despite its light weight, it maintains its strength and solidity, which translates into doors and windows that are easy to open and close, without sacrificing security.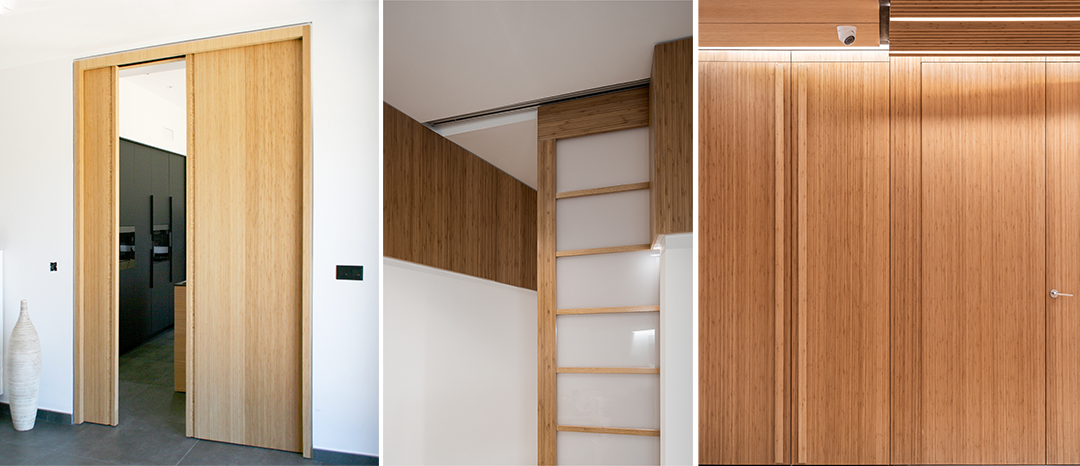 Utilities
The choice of bamboo for doors and windows goes beyond its ecological aspect. These strong and lightweight pieces offer excellent thermal and acoustic insulation, resulting in a more comfortable and energy-efficient indoor environment. The natural characteristics of bamboo allow the internal temperature of spaces to be regulated, maintaining a pleasant climate in all seasons.
Besides, bamboo is naturally resistant to water and moisture, which makes it ideal for regions with changing climatic conditions. Its ability to resist warping and cracking due to changes in relative humidity ensures a long service life and reduced maintenance. Moisture resistance also prevents the growth of fungus and mould, contributing to a healthy indoor environment.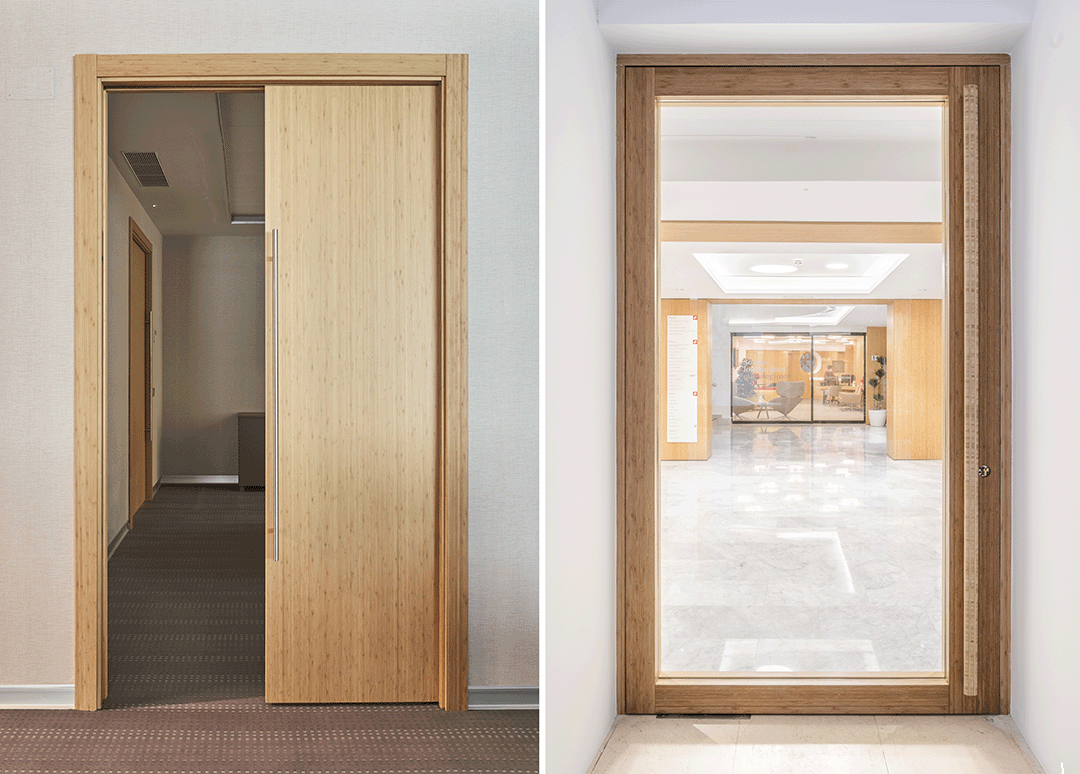 From the point of view of carpentry design, we can find different types of carpentry. All types of openings can be achieved: folding, sliding, folding, projecting, etc. In the leaves we can see an opaque cloth or framed glass, with a specific design and much more. In the frames we can have variants from floor to ceiling, concealed, with flashing, etc. The material can really be adapted to any technology and manufacturing requirement. As a versatile material, the natural finish of the doors can be integrated with the adjacent cladding, designed with the same finish in order to achieve continuity.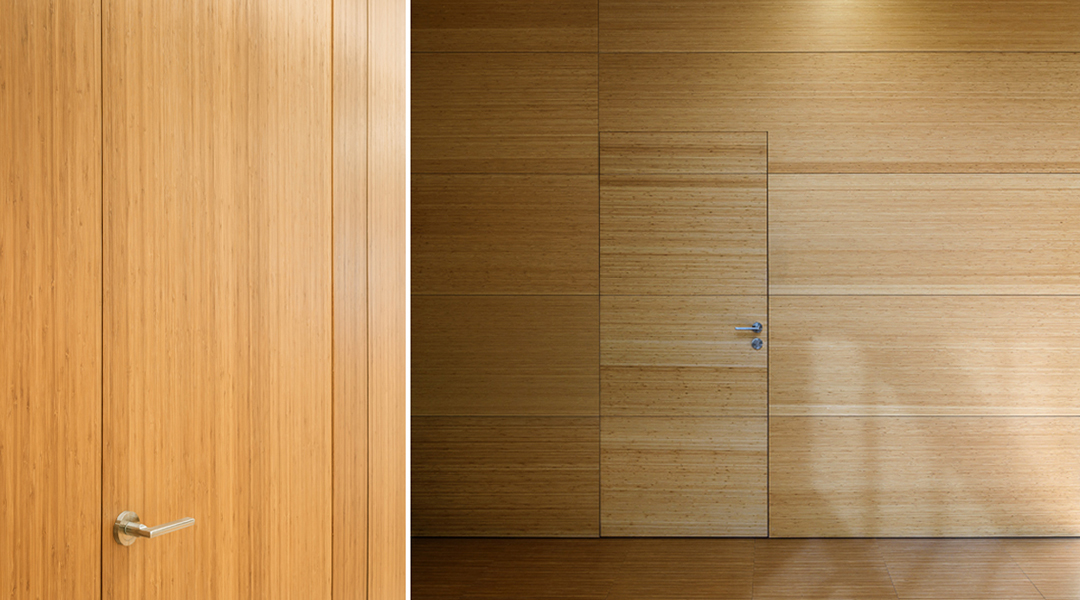 This material has become a very tempting alternative in contemporary joinery thanks to its sustainability, beauty and exceptional properties. By opting for bamboo doors and windows, not only do you get a unique and attractive design, but you also contribute to the preservation of the natural environment thanks to its cultivation, production and generation cycle. For design projects that fuse aesthetics with sustainability, bamboo is a great choice.
BOO doors and windows
Looking for sustainable alternatives to traditional carpentry, we have decided to develop our own model of floor-to-ceiling doors, a design that is easily adaptable to different thicknesses of partition walls. This is achieved thanks to the manufacture of an extensible bamboo frame that allows to regulate the tie width.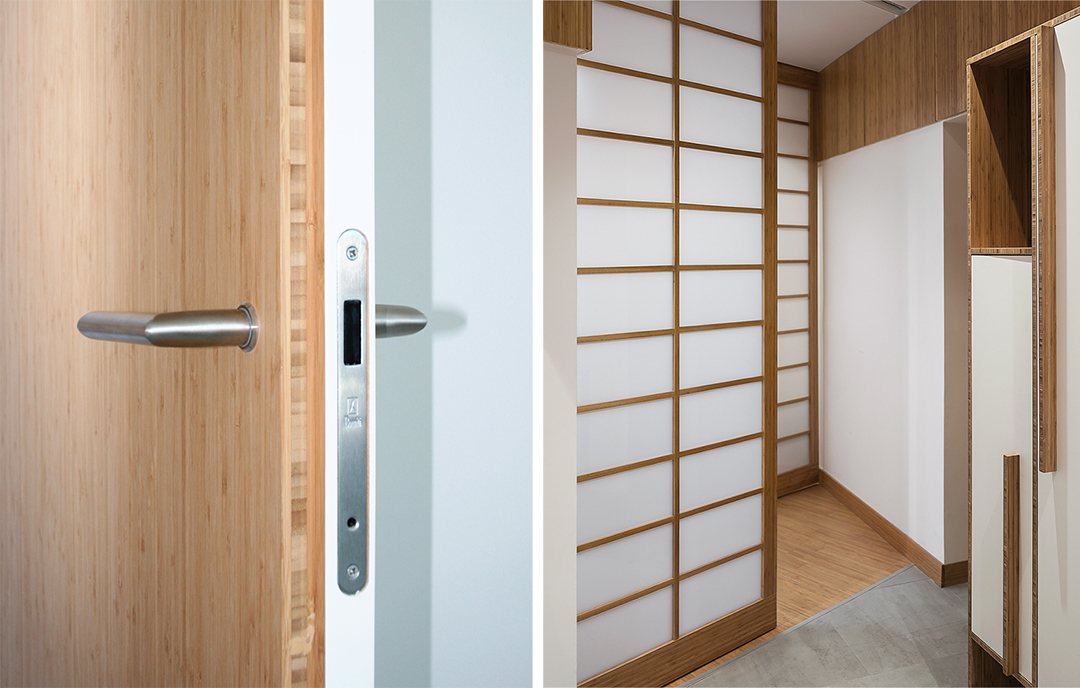 In the case of the leaves, they have an internal wooden structure with thermal and acoustic insulation, closed with fibreboard finished with bamboo veneer on both sides. These leaves are fixed to a frame made of solid bamboo panels, and like other examples, they offer all the benefits we have discussed: a unique natural appearance due to their slatted composition, high stability and hardness, as well as additional credits for BREEAM and LEED certification.
You can find specific technical information about our bamboo doors and windows in this link. For more details you can contact us through the different means exposed on our website.