It is the natural bamboo plants in the grounds of a temple in Kyoto that support the textile roof of the new installation by the architectural studio Kengo Kuma and Associates. They have created a pavilion with this distinctive element supported by the plant's natural stalks. This innovative project, called Kyoto Yudo Pavilion, highlights the benefits of the material in terms of sustainability. At the same time, it combines Japanese tradition with contemporary innovation.
Designing with bamboo
The Kyoto Yudo Pavilion is located in the middle of a bamboo forest on the temple site. Kengo Kuma and Associates took full advantage of the living bamboo to use it to support the structure, eliminating the need for traditional vertical elements. The roof structure was achieved by creating a geometric pattern of diamonds woven from Tyvek, a synthetic material made from polyethylene fibres.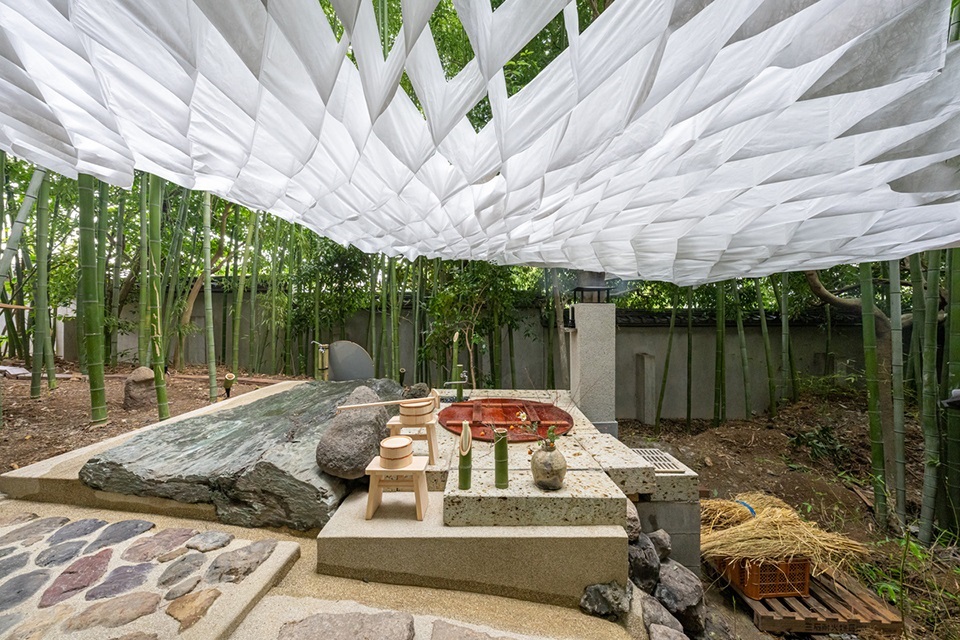 Bamboo plants and their sustainability
The choice to use bamboo as a structural element highlights its sustainability. Architect Kengo Kuma expressed his admiration for the beautiful bamboo forest and his desire to use bamboo plants as a main pillar. By leaving as much living bamboo as possible and using it as a support, the environmental impact was reduced. In addition the ceiling, with the white textile interlacing resembling a folding of foils, was selected because of its similarity to Japanese paper. This allows light to penetrate and provides water resistance, tensile strength and lightness.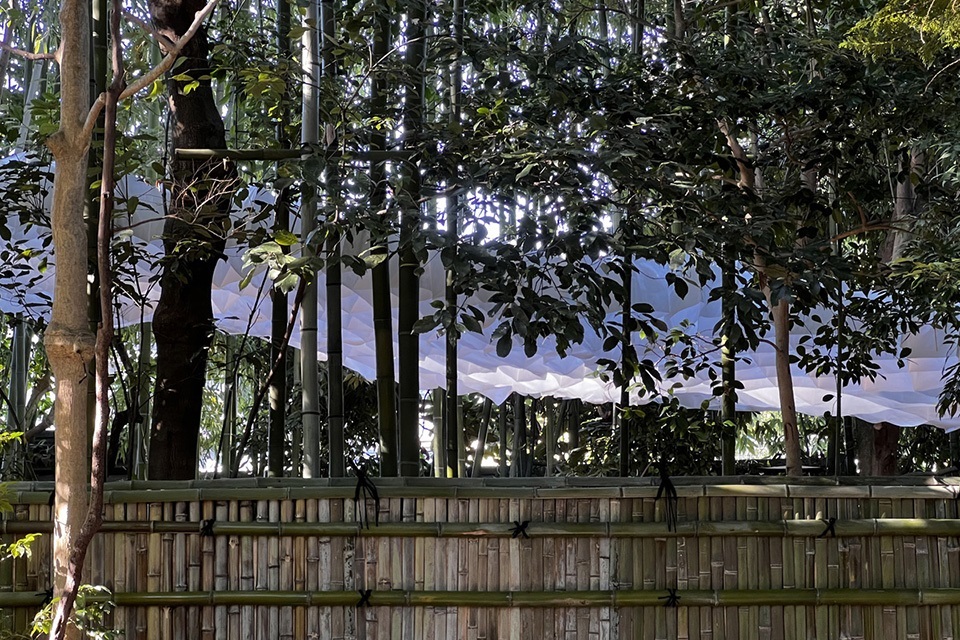 The intimate space with bamboo
The Kyoto Yudo Pavilion was designed as an intimate space that invites visitors to connect with its serene and relaxing surroundings. This structure blends seamlessly into the surrounding bamboo forest, creating a sense of harmony with nature. The hanging white fabric gently sways in the breeze, creating a calm and welcoming atmosphere.
Bathing among bamboo plants in the open air
In the centre of the bamboo forest clearing, an open-air bathtub is located, which becomes a spa-like area. The "fabric architecture" offers a unique experience, as it allows sunlight to filter through the surrounding vegetation while visitors enjoy the hot water.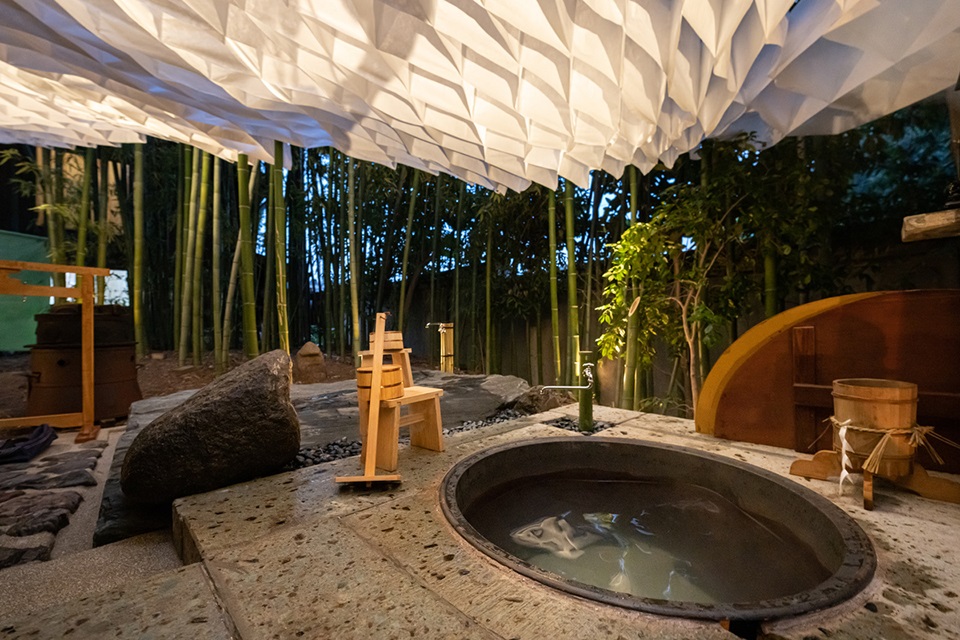 The Kyoto Yudo Pavilion is an example of sustainable design that uses bamboo as a central element, highlighting its ecological benefits. This project demonstrates how tradition and innovation can be combined to create spaces that harmonise with nature and offer unique experiences to users. Kengo Kuma and Associates continues to explore the possibilities of sustainable materials and construction techniques in its quest for architecture that integrates with the environment.
The choice for this material allows to obtain a lower environmental impact in construction applications, such as the LEED certification. At BOO we are aware of this. Our products ensure the quality of the material and provide a balance between aesthetics and feasibility, which ensure a good sustainable practice of bamboo in architectural projects. For more information, please contact us, we are more than happy to answer your request.
Photos: © Kei Sugimoto