Revolutionizing interior design, bamboo slat cladding is an inspiring choice for creating unique spaces, combining the contemporary with a commitment to sustainability.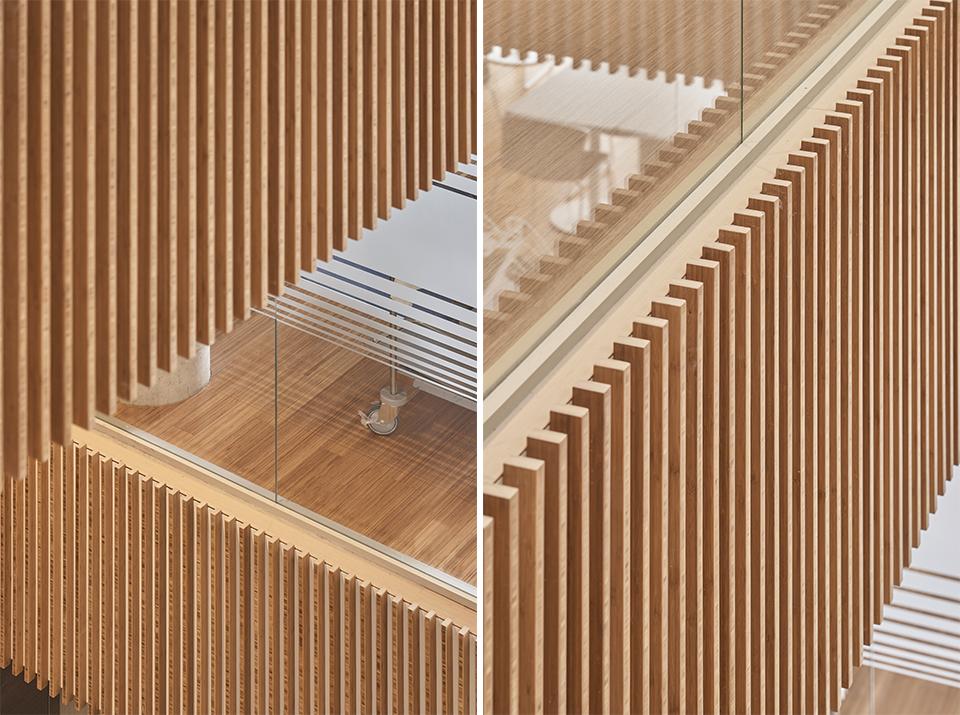 Bamboo cladding in surface design has emerged as an outstanding choice, using an abundant and sustainable natural resource. In a way, it has transformed the design industry and partly the construction industry in various fields. In this context, the choice for a slatted design is also an interesting variant. Its versatility, beauty and unique properties make bamboo the preferred material for the creation of these elements that stand out both in terms of aesthetic design and functionality. In other aspects, it is interesting how slatted cladding is used in vertical and horizontal planes, regulating visibility and providing acoustic properties in other cases.
In this text, we explore how this type of cladding has left a significant mark on the finishing of various elements. Providing solutions that integrate harmoniously with the immediate environment, they add a unique and ecological dimension to the decoration of spaces.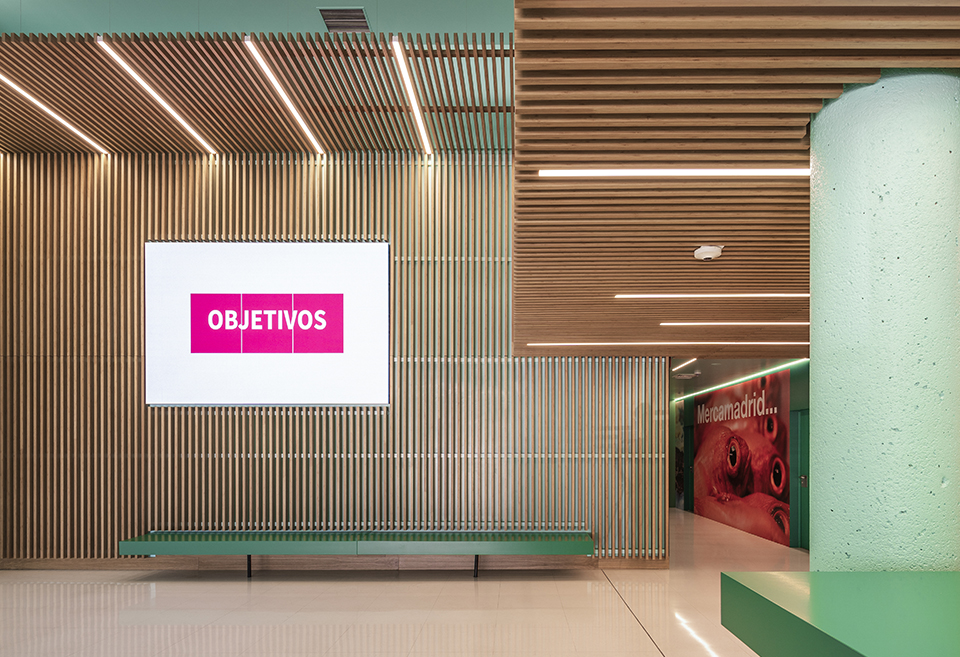 Characteristics of bamboo slat cladding
Bamboo slat cladding is an exceptional choice for sustainable and architectural design projects. Bamboo, recognized for its effective green cycle of procurement and resistance, guarantees long-lasting products resistant to adverse conditions. In parallel to its functionality, it brings a natural and elegant beauty to interior and exterior spaces, adapting to various styles.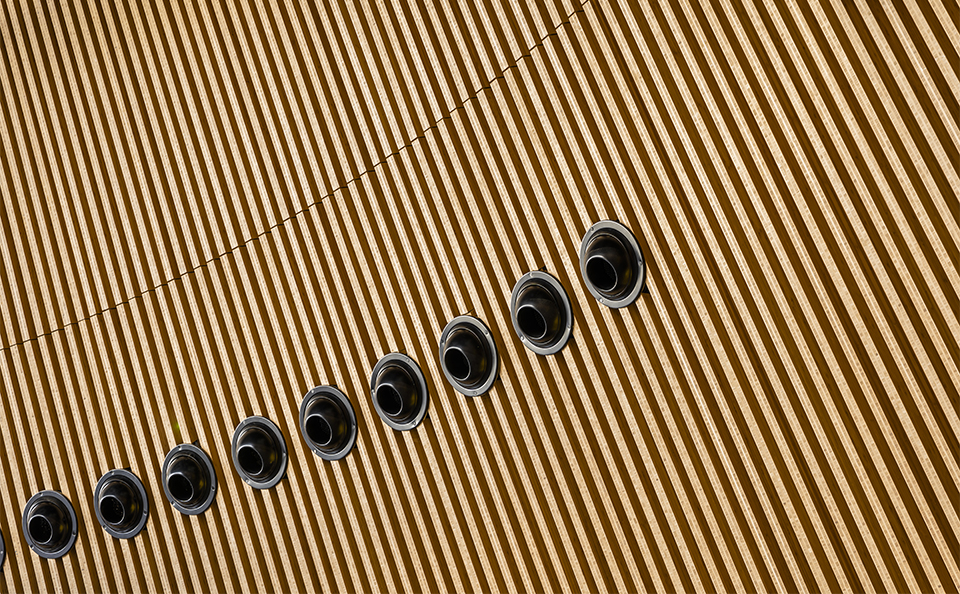 Versatility is a key feature of these coverings, since their composition allows for adjusting dimensions and distances between the slats, influencing sound absorption and allowing for creative designs on ceilings and walls. Its lightness facilitates handling during installation. In addition, the variety of shades, species and finishes of bamboo offers very particular customization options.
Also, both in straight and curved surfaces, we can find dissimilar proposals that not only adapt the slats to the mounting plane of the cladding, but also, being a set of individual elements, allow to play with the geometry of each one and generate motifs, patterns and waves that combine the parametric design with the function of the installation.
Utilities
Versatile bamboo slat claddings are true design gems, displaying their broad utility both indoors and outdoors. In interior spaces, they transform walls and ceilings into warm and welcoming environments, infusing elegance and freshness with their texture and natural tones.
Their variability transcends these limits, finding surprising applications outdoors. From creating boundary fences to pergolas that provide shade and style, these coatings demonstrate their weather resistance and ability to withstand moisture without losing their natural charm.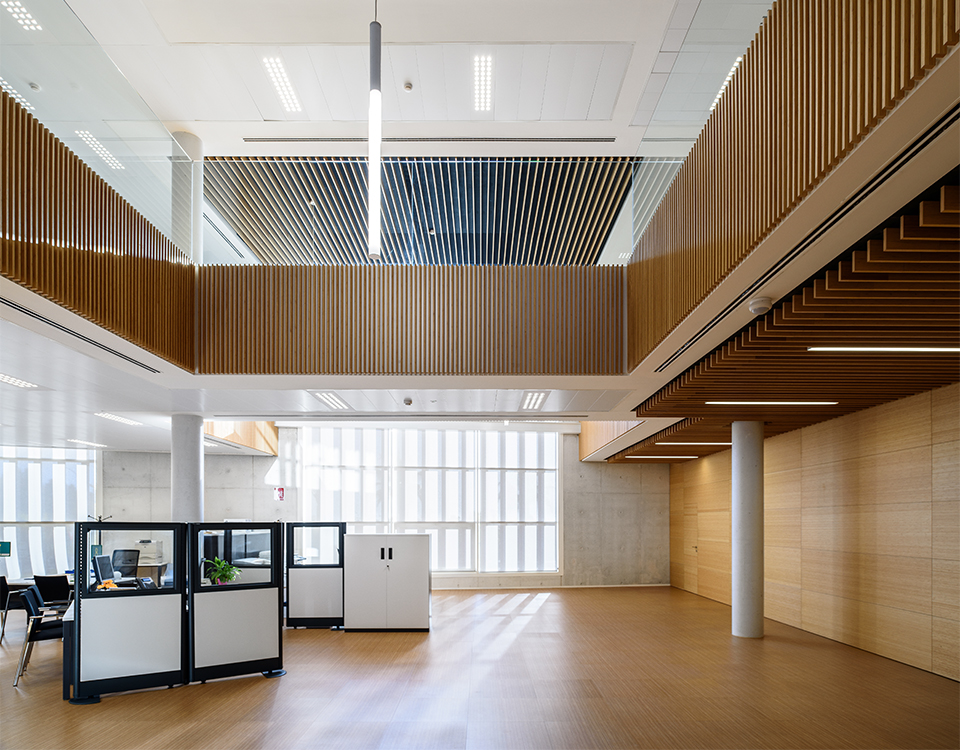 Choosing bamboo slat solutions is ideal for those looking to infuse warmth and natural beauty into their design projects. These claddings not only add style to spaces, but also reflect a commitment to sustainability, making them a smart and elegant alternative for any design project. Their use contributes to  Leadership in Energy and Environmental Design (LEED) certification in projects that seek responsible construction. It is important to note that lighting also plays a crucial role in the design of these bamboo slatted ceilings and walls. The choice of linear luminaires should consider the dimension of the luminaires to ensure that they integrate harmoniously with each other.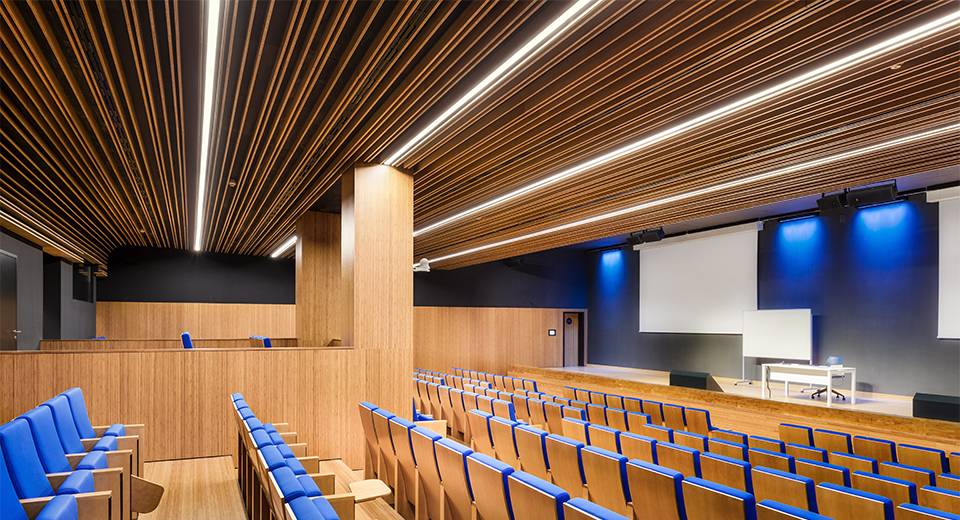 BOO slat claddings
Looking for sustainable alternatives, our team has developed bamboo slatted cladding systems conceiving solutions for different spaces. However, the applications of BOO slatted cladding go far beyond that. Available in various formats, they offer a wide range of possibilities for architectural and design projects. With a distinctive fixed edge, the height of the slats and the distance between them can be customized to the specific needs of each project. For longer slat lengths, connectors are included to ensure perfect alignment, allowing for application in large and extensive projects.
Wood slatted ceilings are becoming increasingly popular in projects that seek to incorporate warmth and uniqueness into their spaces. The choice of wood species, in this case, our bamboo, influences the tone, grain, texture and finish of the ceiling, which contributes significantly to the aesthetic appearance of the environment. In addition, the dimension of the slats and their spacing can be adjusted to achieve different levels of sound absorption, depending on the insulation applied. This opens the door to creating rhythmic ceilings or introducing dynamism into the space, adapting to design and functionality needs.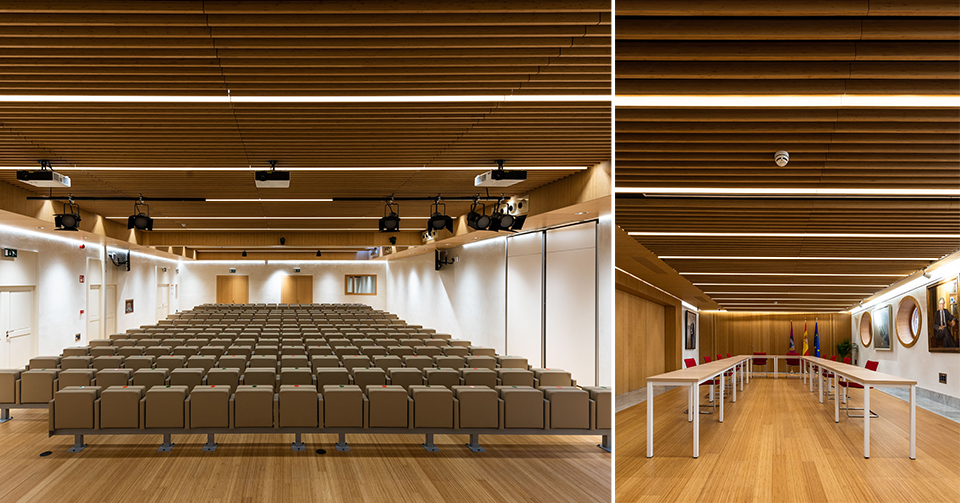 In this sense, our slatted cladding products offer a versatile and sustainable solution. Our applications have been adapted to the current market, both in ceiling and wall cladding, and even in furniture. For detailed technical information on these products we invite you to explore our website. If you would like to discuss a specific project or have additional questions, our team is available through the contacts listed on our website. We are committed to excellence in sustainable innovation.