Standing out from other products, the use of bamboo becomes an alternative with many advantages. In this blog we tell you about its potentialities.
The need to improve consumption habits in our society, in order to conserve natural resources, has led to an unquestionable search for ecological alternatives. It is a challenge to reconcile a modern lifestyle with sophisticated technologies without compromising the well-being of future generations. In particular, the construction sector has been directly forced to develop techniques, components or solutions that are not only innovative, but also energy-efficient. And it is here that a material that has been used since time immemorial becomes a welcome balm that satisfies the technical, aesthetic, environmental and social needs of our times.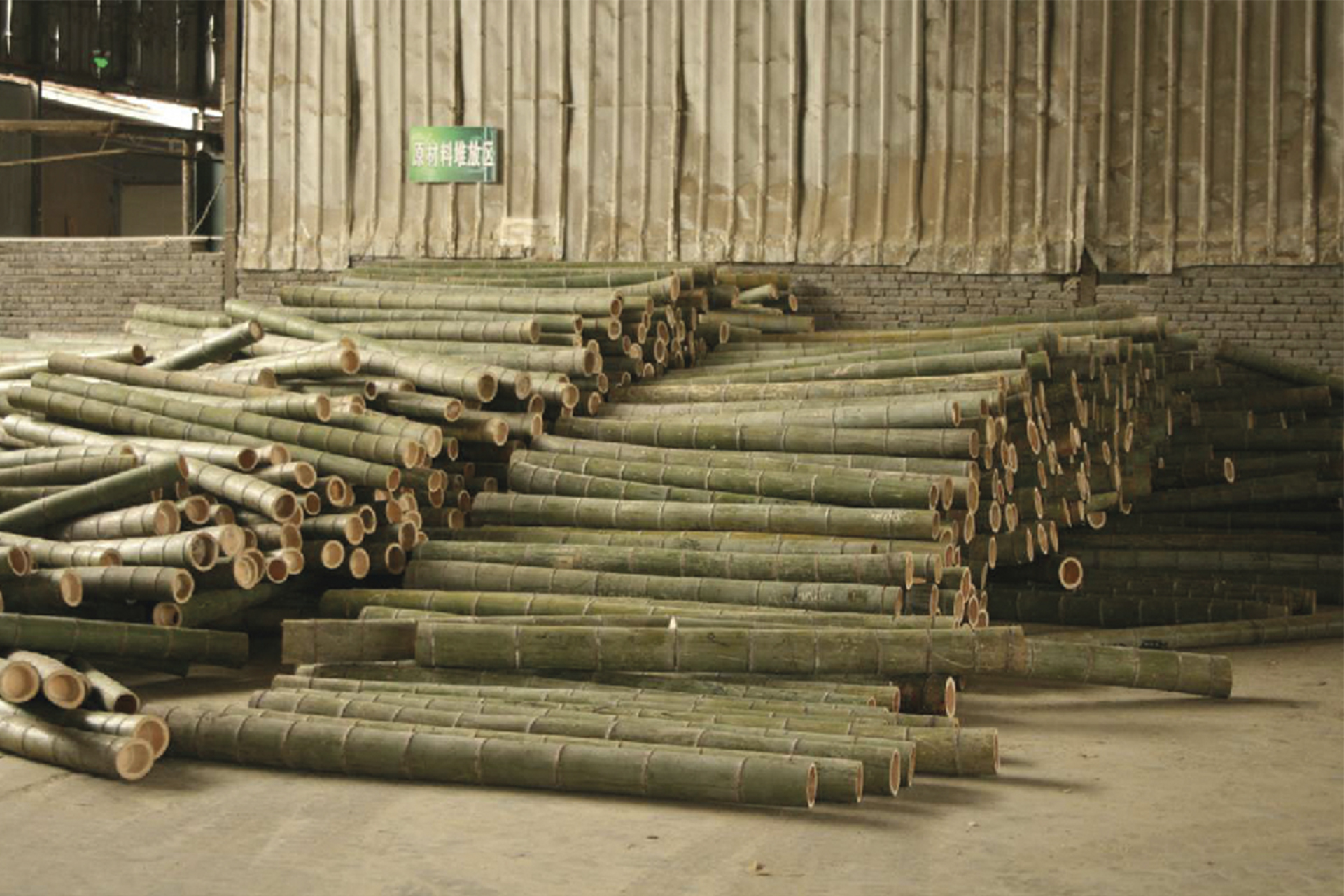 It is possibly the material with the greatest growing presence in our environment, being a safe, healthy and efficient bet. This has already been echoed by numerous architects and engineers, who, fascinated by the qualities of this green giant, do not hesitate to integrate it in the most modern and exquisite projects.
The bamboo plant
Bamboo is not a tree. It is a grassy plant with a woody trunk, known as "bamboo cane". This gives it advantages over any wood species, such as speed of growth and ease of repopulation.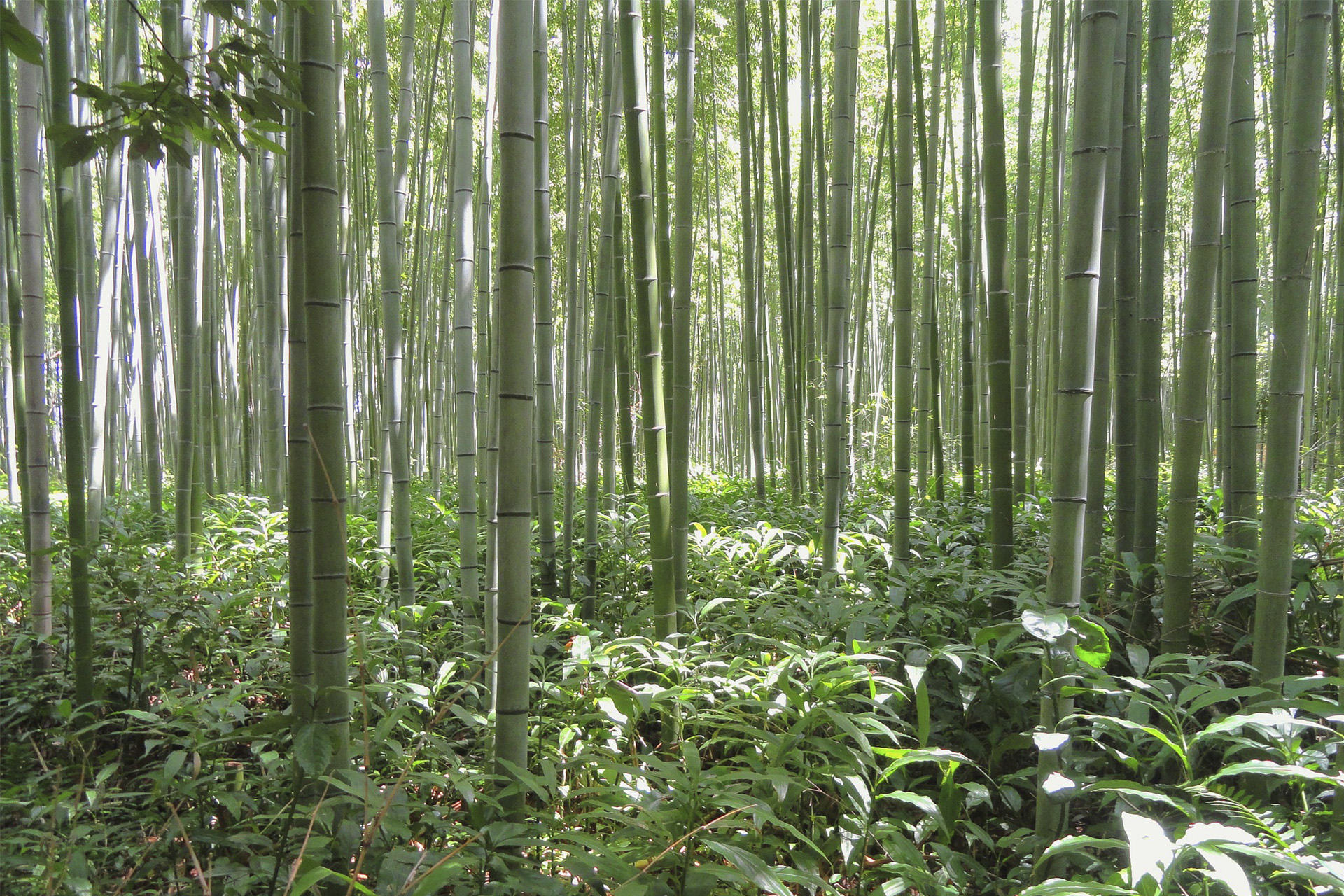 Bamboo comes exclusively from the species Phyllostachys edulis, known as "bamboo moso" or winter bamboo, one of the most widespread families worldwide. Its expansion is due to its ability to adapt to different environments and to the excellent mechanical properties of the species.
Its main growing areas are in Asia, where it is harvested in a controlled manner from natural forests or responsibly managed plantations.
Sustainability
Bamboo is the sustainable material par excellence. Its rapid regeneration and the particularity of not needing to be planted to reproduce, since it sprouts from its own cut trunk, makes it the key against deforestation. Its rapid growth, up to 30 cm per day, makes it possible to obtain harvests in 5 to 6 years and to be a profitable product for its production.
In addition to these advantages, the use of bamboo also boasts of being an efficient activity since the material is usable as material for the production of biomass in power plants. This means that its life cycle closes with a negative contribution to the carbon footprint.

The use of bamboo in architecture
With excellent properties of strength, hardness and stability in this plant, that makes it a competitive option for countless construction solutions, including many as an alternative to tropical wood. The ecological component, as a natural raw material with faster regeneration, also makes it the material of choice for significant interventions in buildings with energy and certified sustainability classification. One of the certifications of this material where our company has left its mark is in the LEED, in this post we tell you more about these aspects.
But it is not only its mechanical properties or environmental characteristics that point to it. The appearance of bamboo shows a friendly, modern and innovative material. Easily combinable, with presence and elegance. It can be used in its most vernacular form, in cane, where innovative constructions are a worldwide reference with projects by well-known architects and designers such as Simón Vélez, Kengo Kuma or Vo Trong Nghia.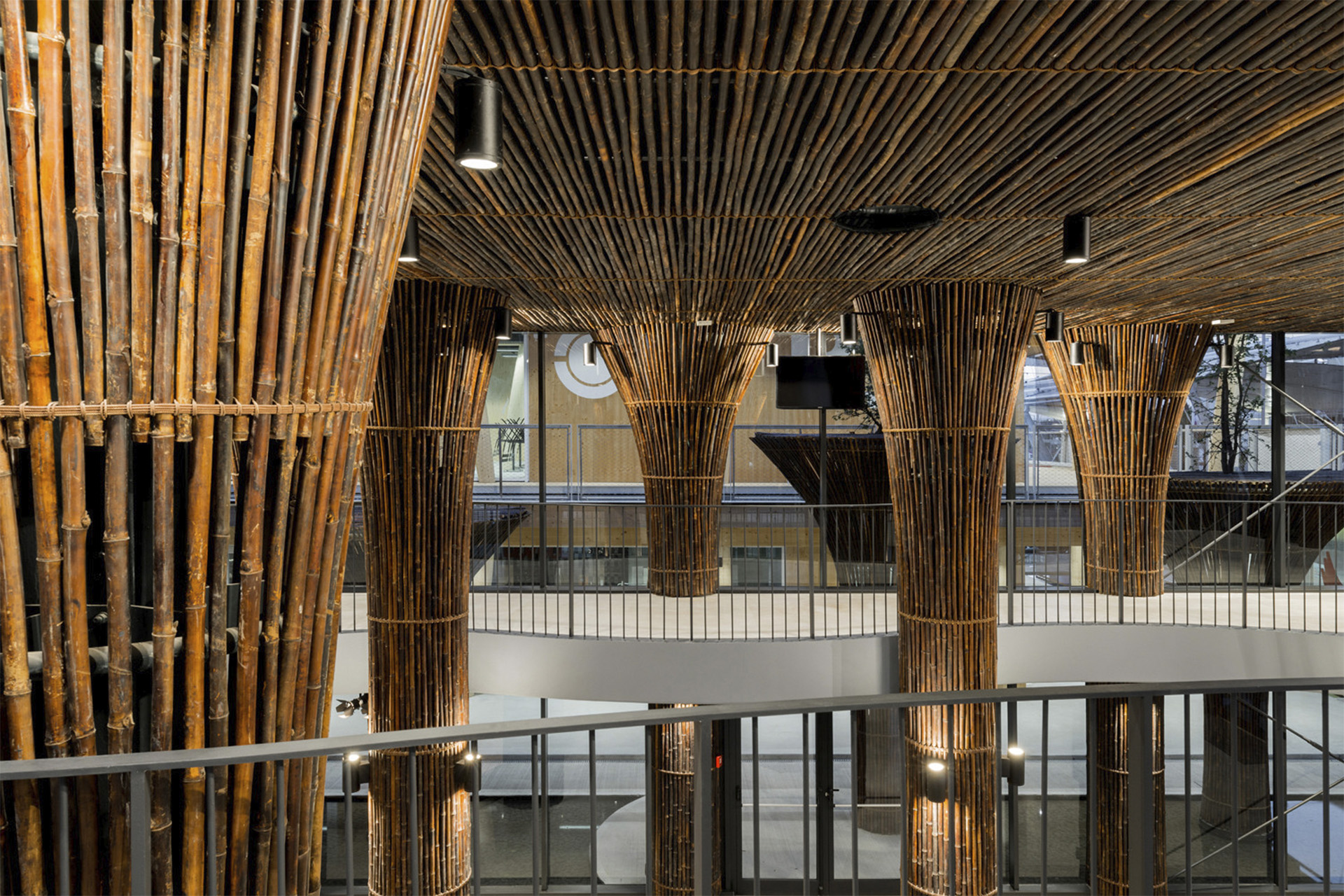 Transformed bamboo is also the choice of more avant-garde and contemporary architects, such as the use of bamboo in this parking structure in Germany by HPP Architects.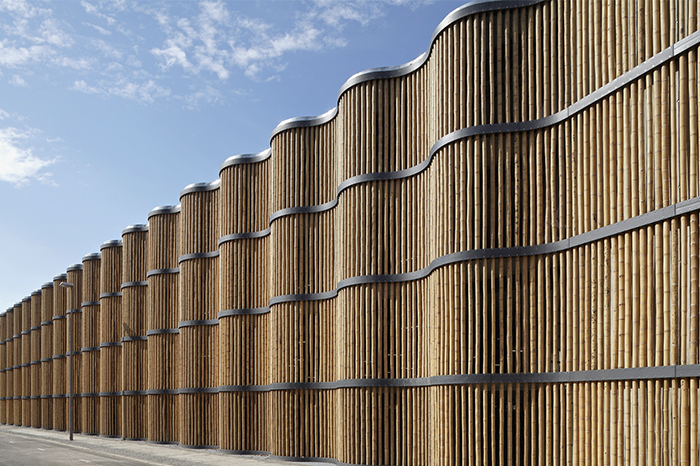 In Spain, the use of this material for construction is also on the rise. A clear example is the roof of Terminal 4 at Barajas Airport, designed by architect Richard Rogers, which demonstrates the usefulness, simplicity and friendliness of bamboo in all its splendor.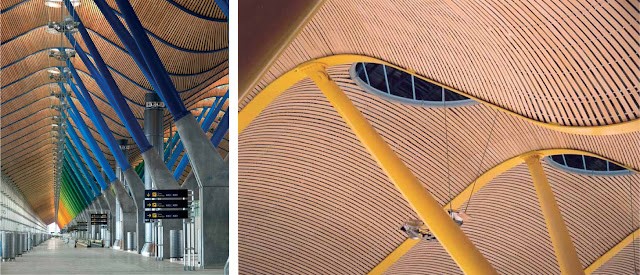 Another example is the social housing in Carabanchel by the FOA studio, which uses bamboo as a sustainable and economical material in the integration of sustainable architectural solutions in low-income communities.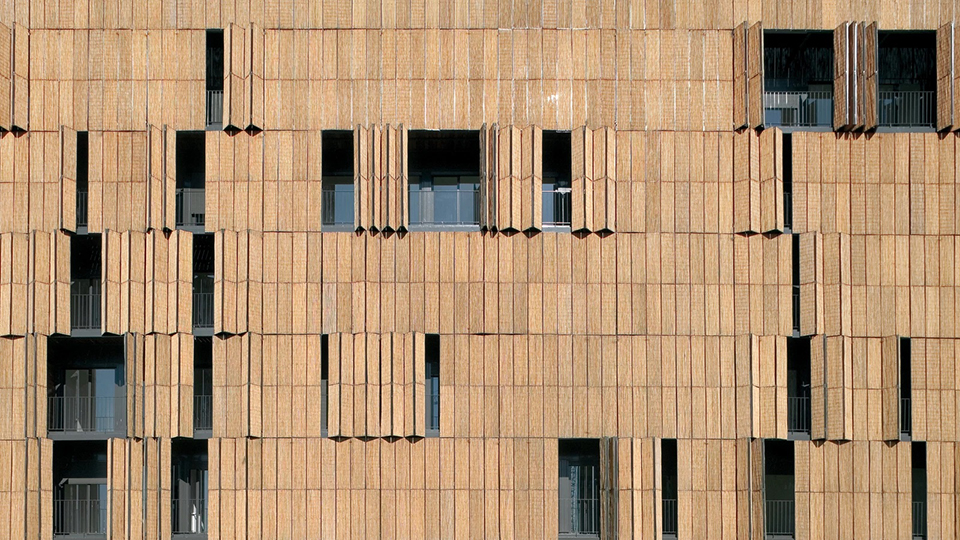 Use of processed bamboo
As we all know, the use of bamboo can be translated in many different ways thanks to its many presentations (solid panels, laminated paneles, veneers, flexible panels, etc.) allowing the realization of prodigious projects. Interventions, especially in interiors, ranging from domestic to large international exhibitions, the applications of bamboo are limitless.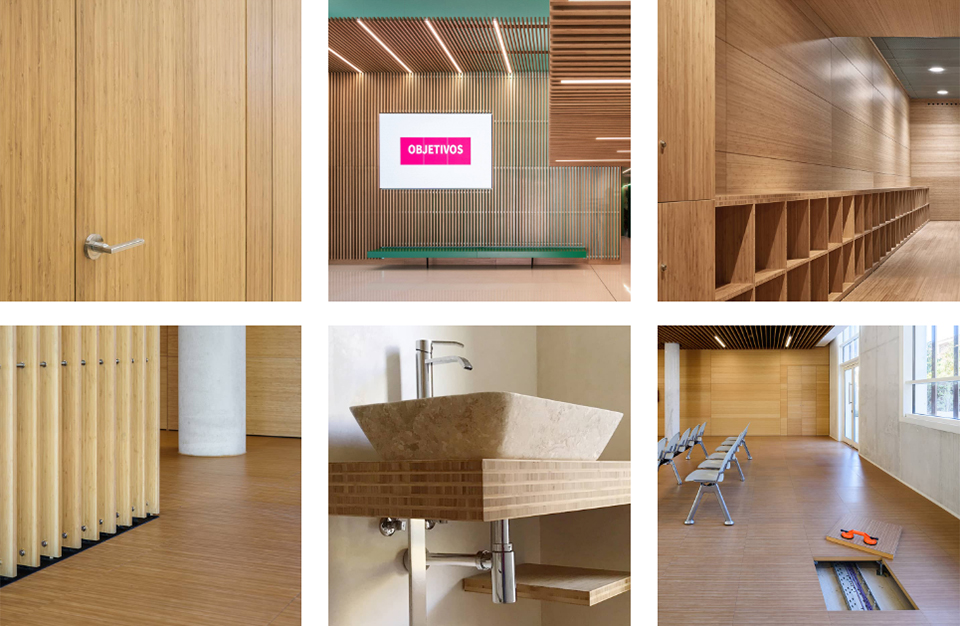 Some of the uses that are given thanks to the transformed bamboo are:
A very efficient application is bamboo flooring, which has a very high dimensional stability. Bamboo, thanks to its composition of slatted strips, is very insensitive to humidity and temperature changes. This characteristic makes it ideal for underfloor heating and installation in damp rooms such as kitchens and even bathrooms.
Bamboo finishes
In terms of finishes, there are varnished or oiled finishes. The varnishes protect the flooring from most of the aggressions it may suffer and guarantee the hardness, resistance to abrasion and chemical resistance of the floor. Its maintenance is like that of any other floor, it can be polished and re-varnished several times, although the high quality of the finishes makes it unnecessary to perform these actions.
Oils offer a natural effect and an almost invisible protective film. However, they deeply nourish and protect the wood and preserve the natural feel. The maintenance of the oil finish is very easy, it only requires nourishing the wood with a supplement of oil from time to time.
The use of bamboo as a building material is a bet on the necessary transition to a circular, healthy and neutral building environment. Boo-bamboo is committed to the supply and marketing of processed bamboo elements. We support the sustainable cycle of this resource in the field of design and construction. For any inquiry, quotation or guidance please do not hesitate to contact us.