The use of bamboo in interior architecture is becoming more and more standardized. Its choice over wood species for sustainability reasons is a fact.
Bamboo is the raw material that is presented as the present and future solution to stop deforestation. Thanks to its properties, it is beginning to impose itself as a construction material, suitable for a multitude of applications, among them as a floor finish in its bamboo flooring version.
It is a herbaceous species that grows naturally. Its growth speed is incomparable, and it can even be considered invasive, since it sprouts every year without needing to be replanted. Any timber species needs between 30 and 60 years to reach maturity.
In the case of solid bamboo flooring, the material has intrinsic characteristics that make it ideal for this use, with many advantages over other types of wood. It has a great hardness, despite being a very light material, with an index on the Brinell scale of 4.7, higher than that of woods widely used in parquet and flooring, such as oak or beech.
Characteristics of solid bamboo flooring
BOO manufactures various types and formats of solid bamboo flooring.
All of them are made of bamboo strips glued along the edge (horizontal grain) or along the face (vertical grain). It is this slatted configuration that gives it a stability far superior to any solid wood floor, in the face of adverse conditions of relative humidity.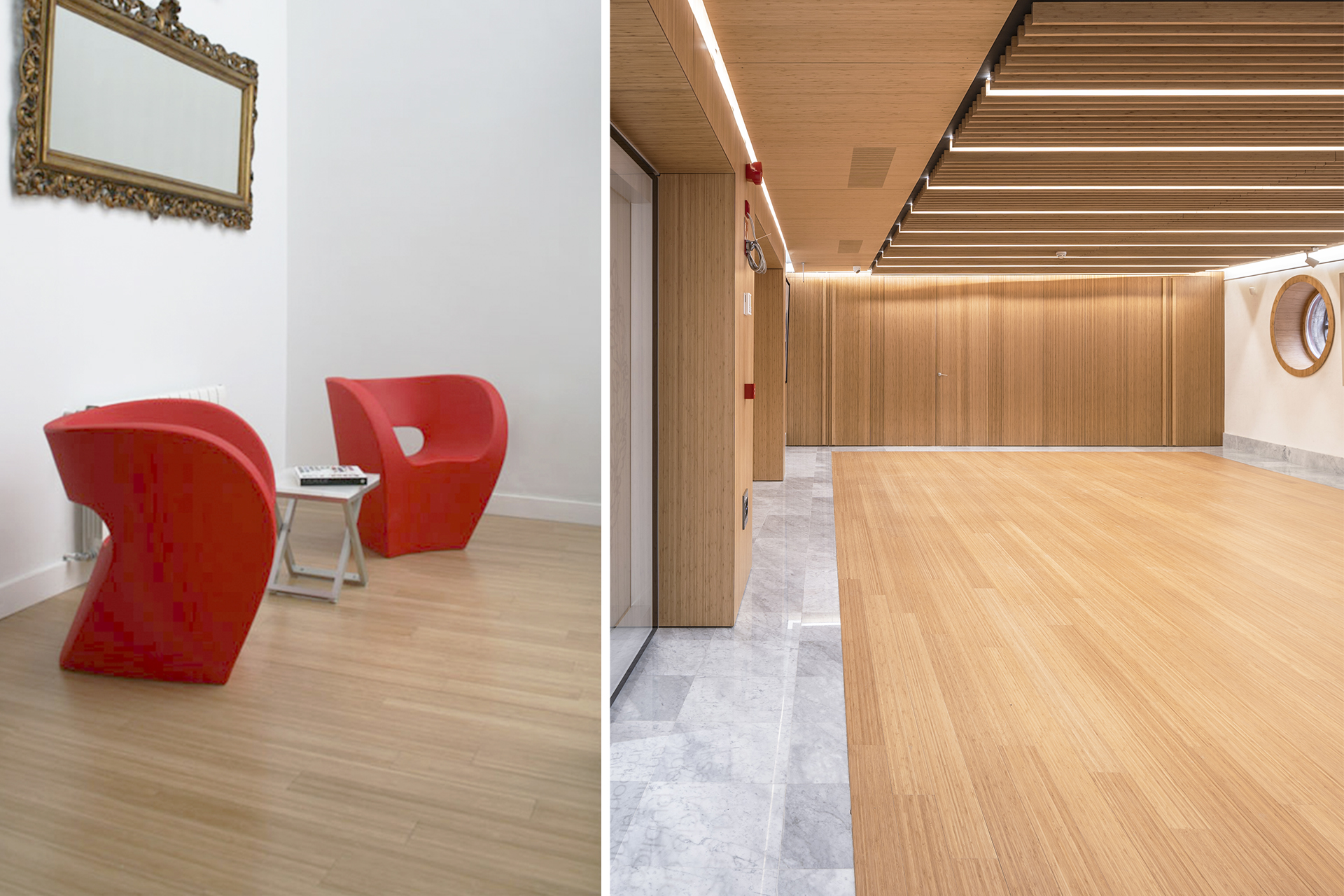 There are different slat formats of 1950x130x18mm (large format); 1950x96x15 (large format) and 960x96x15mm (small format). All of them are exclusive to BOO-Bamboo, with T&G tongue and groove joints in the longer planks, prepared for both installation glued to the floor and for installation by means of a floating system.
The smaller planks incorporate an innovative click system. This is a mechanical anchoring system that allows quick and easy installation in this most common bamboo flooring format, as well as an acoustic insulation against impact noise on the back of the plank.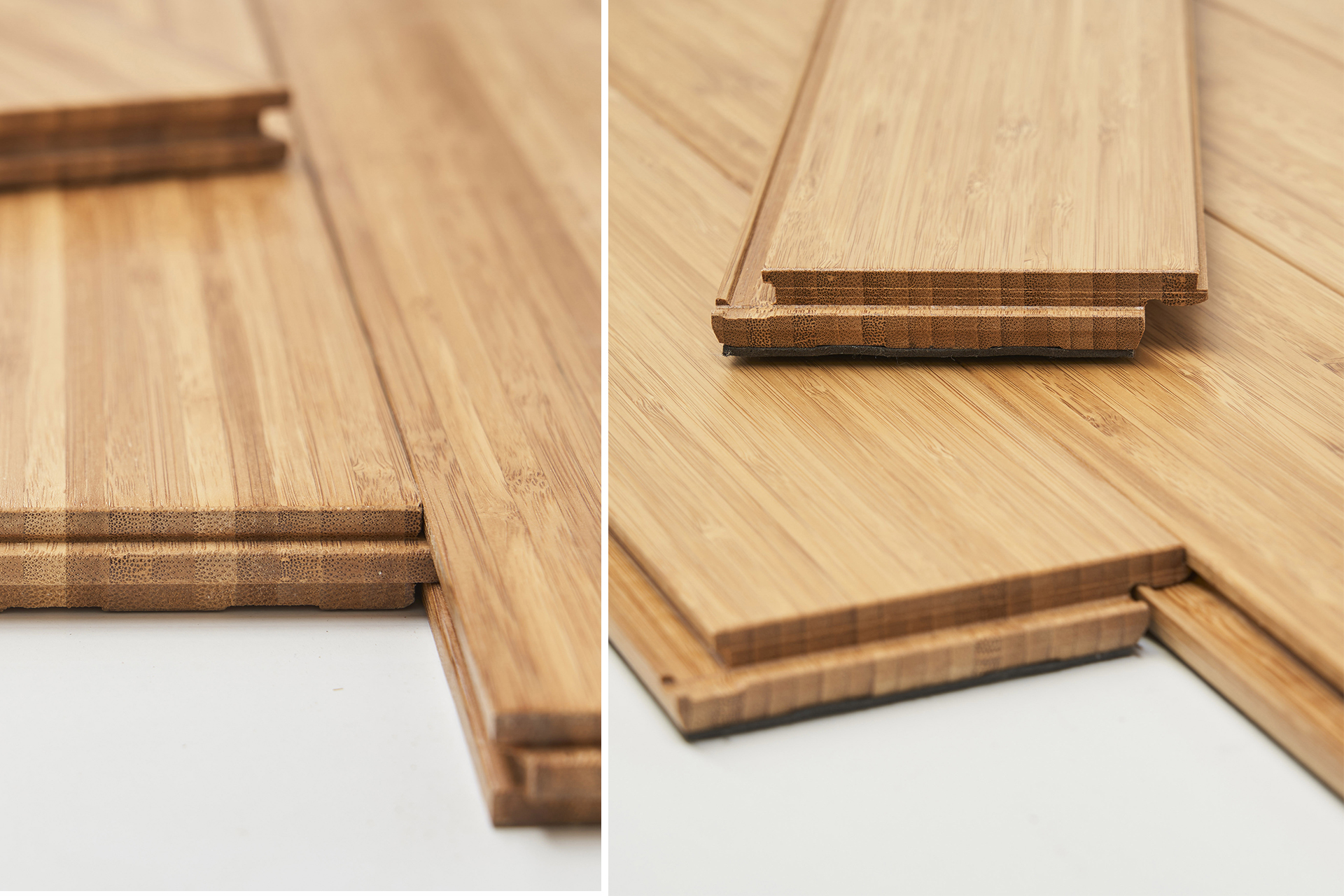 Bamboo flooring can have a natural color resulting from the drying of the bamboo cane strips themselves, or a more or less toasted color. This caramelized tone is obtained by cooking the bamboo sugars in ovens at 200-300ºC, where the material is treated against xylophagous attack.
The density of the material, around 760kg/m3, gives it a very high hardness. This hardness is reinforced in our manufacture with the application of varnishes of extreme resistance to wear and tear but with very natural finishes that create warm and comfortable environments.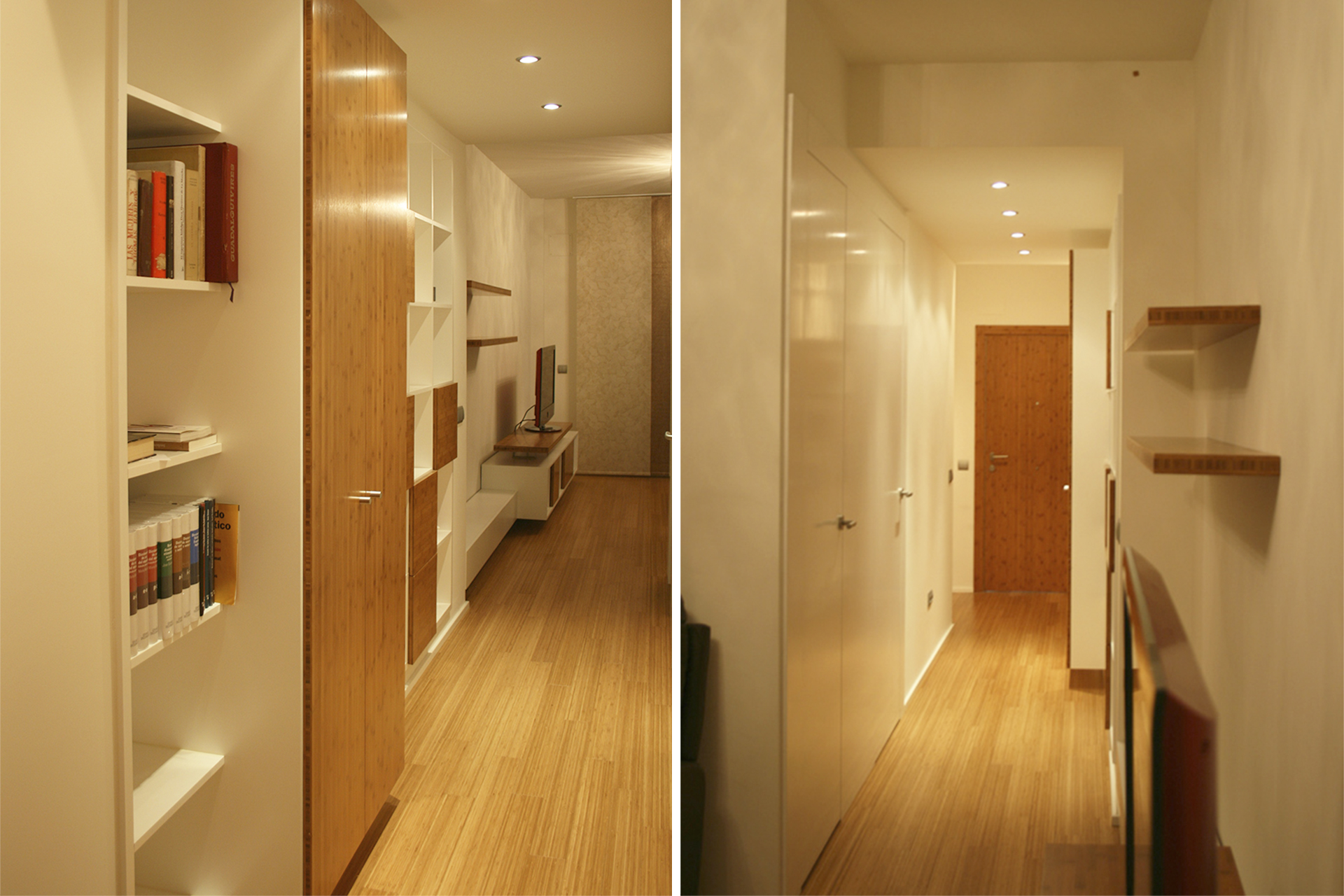 Uses of solid bamboo flooring
The stability of this floor, thanks to its composition, makes it an ideal flooring for radiant floors and wet areas: bathrooms and kitchens. In these applications, the bamboo floor slats should be glued to the subfloor for the best performance.
As it is an antistatic, anti-allergic material and a fantastic thermal conductor, it is ideal in workplaces and domestic spaces where the warmth and comfort of the users is sought.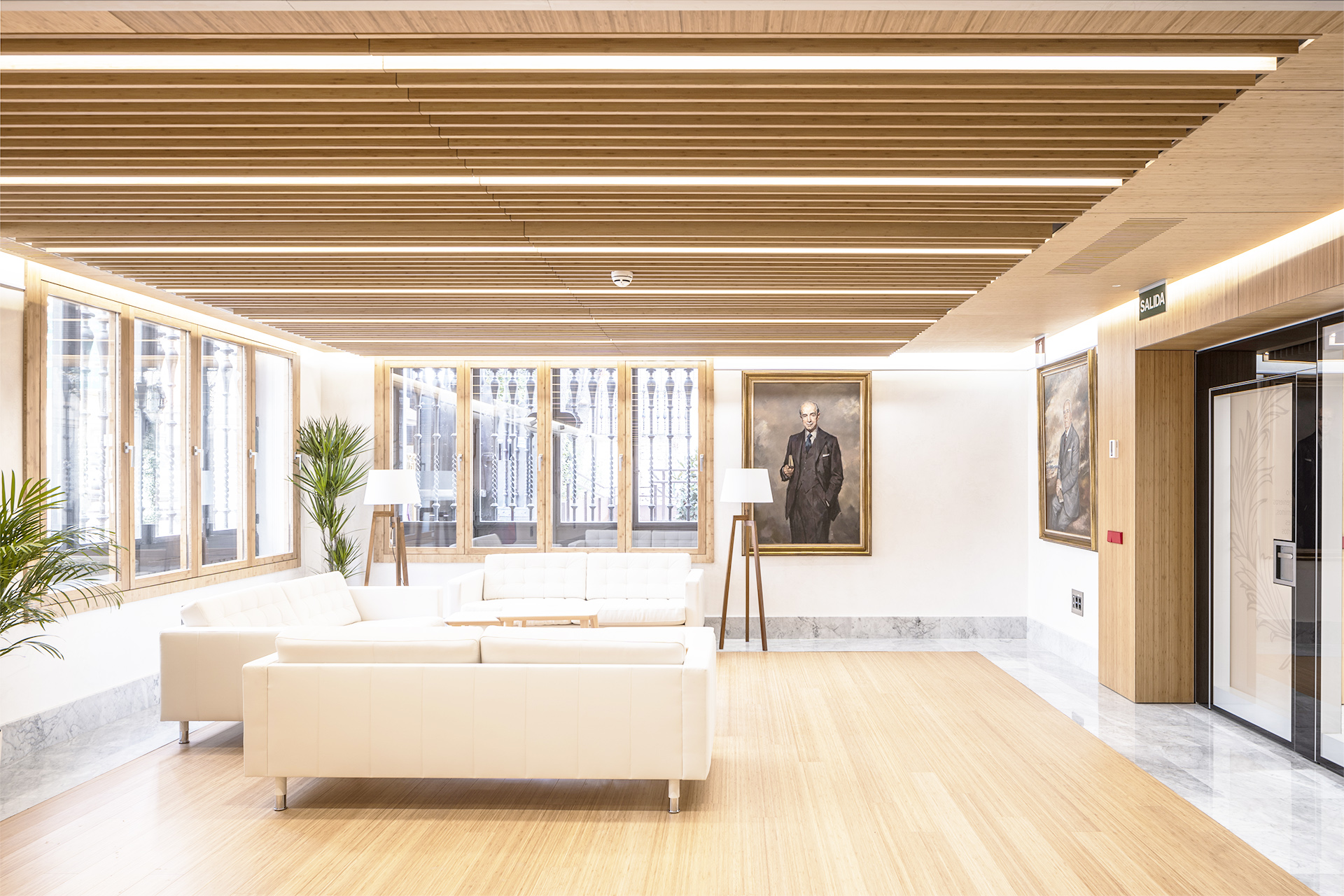 Bamboo as such is an insulating material, a property that gives it its own physiognomy. Inside the bamboo canes, small air chambers are formed, which give this material its natural capacity to function as an acoustic and thermal insulator. Bamboo is therefore ideal for cladding rooms where good acoustics are required, in multi-purpose halls, auditoriums… where it is essential to reduce sound reverberation.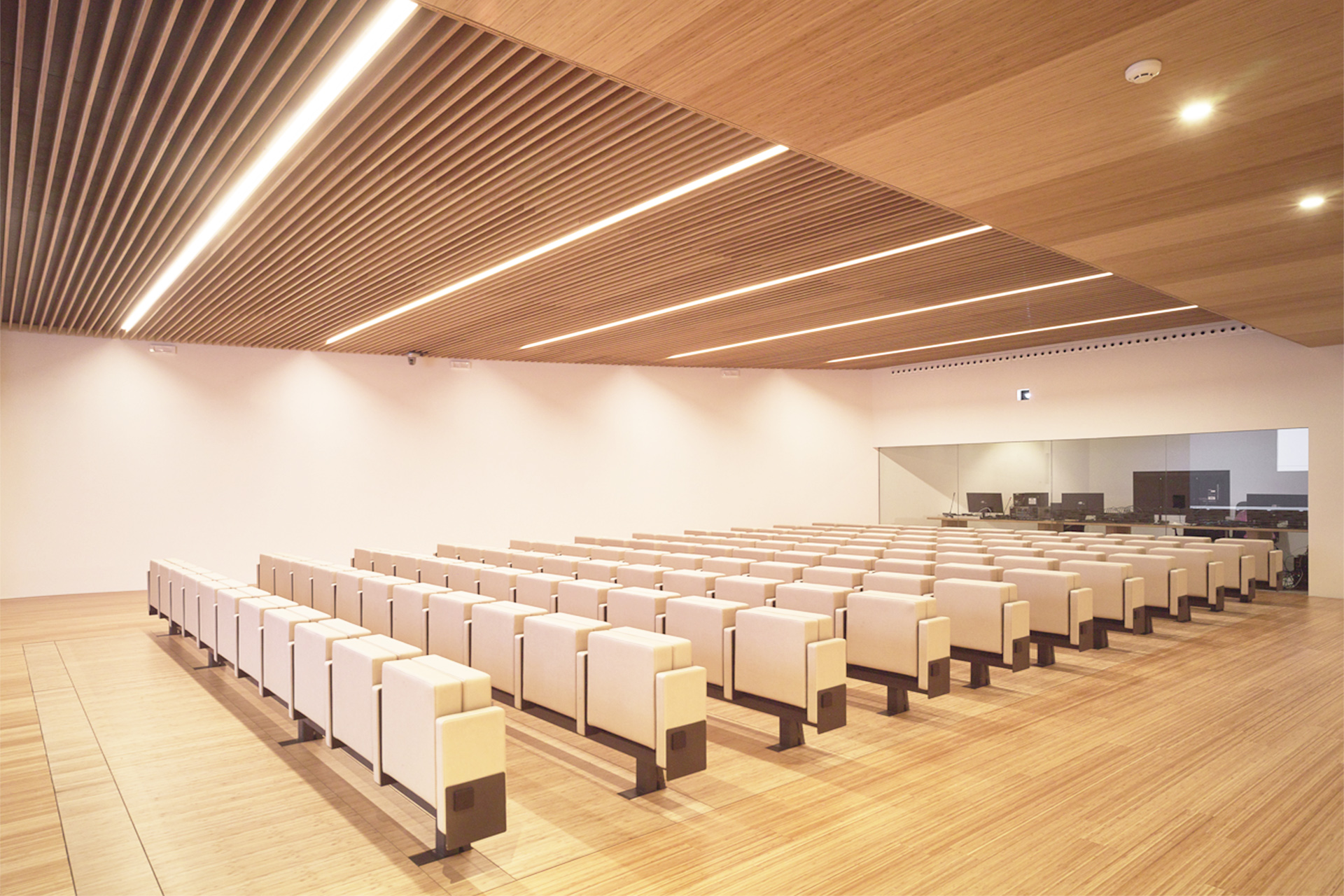 If you need additional information for choosing a bamboo floor in any of your projects, do not hesitate to contact BOO here.